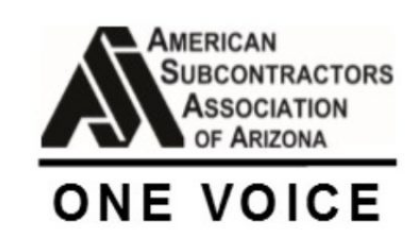 Presented by
Angela Cooner, Lewis Brisbois
Ryan DeMenna, DeMenna Public Affairs
Join ASA of Arizona members and Arizonans for Fair Contracting supporters for an in-depth advocacy briefing on SB1271 and the continuing pursuit of a better construction environment in Arizona:
• What relief will the new law provide and when is it effective?
• What impact will SB1271 have on current contracts versus
contracts signed after the bill's effective date?
• How to utilize all the benefits the new law has to offer — both for
trade contractors and their insurance carriers.
• What is the focus of the Construction Liability Apportionment Study
Committee between now and the 2020 Legislative Session?
• What's next in pursuing change in statute to benefit all industry
segments working in the private construction sector?
• ASA Advocacy priorities — What's hurting your business?