The Southwest offers Prime Trout Fishing

Published August 29th 2018 at 11:42am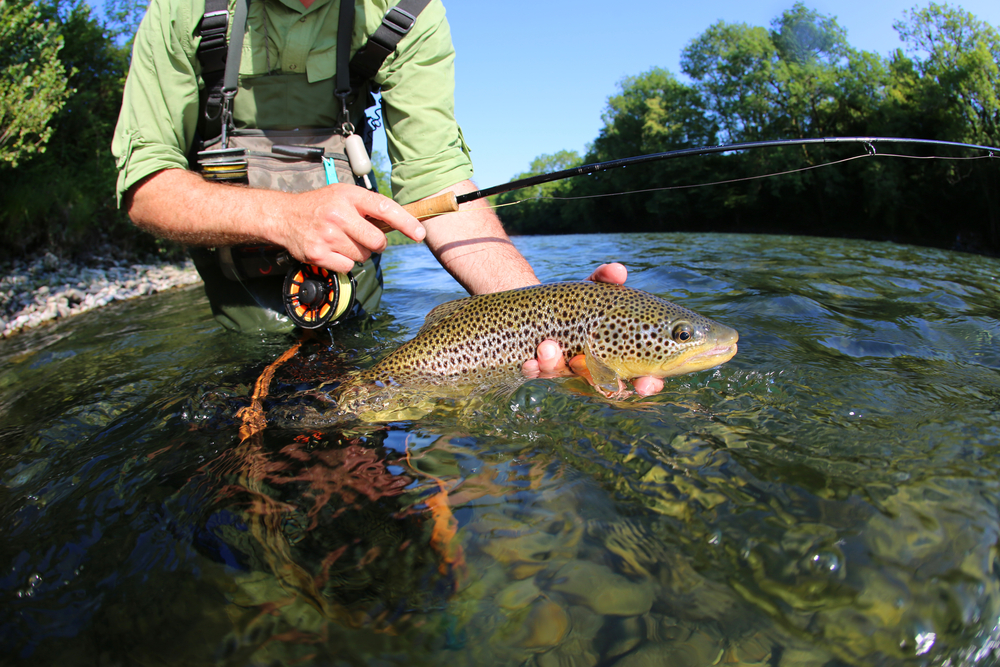 Need a break from the daily grind? With autumn turning the corner, there is no better time to find that perfect spot for trout fishing. Colorado, Arizona, Utah, and Nevada house some of nature's most pristine streams, lakes, and rivers - anglers' paradise!
But, for most people, vacation time is limited and finding the best destination requires hours of research. Sound familiar? Well, if you are ready to get the boat prepped or put some waders, consider the following fresh water jewels:
Colorado will Never Disappoint the Eager Trout Fisher
Alex Bolla, a guide from Tarryall Outfitters Fly Shop in Fairplay, boasts that the state of Colorado offers over, "9,000 miles of trout streams, including Gold Medal waters." Never heard of Gold Medal waters? These waters are famous for choice fishing!
For example, he highly recommends a trip to the Middle Fork Section of the South Platte River. He states it "is often called the Dream Stream" because, "the state generally maintains 5,000 trout greater than 14 inches per mile there."
But, some fly fishers want a less popular, more intimate spot, and Colorado offers plenty of these places as well.
The friendly rangers at Rocky Mountain National Park, just outside of Estes Park, are more than ready to help you pinpoint the perfect river or stream - such as the Big Thompson River.
Start by calling the ranger station at Aspen Glen . If those rangers do not have the answers, they will put you in contact with the right people.
Prefer Going Further South? Head to Arizona
While it may not be as quickly considered for fly fishing excursions as the western states, Arizona has much to consider! In fact, Sunrise Lake is home to Rainbow trout, Apache trout, and Brook trout. If you desire to fish more than one type of water, but are short on time, this is a great opportunity.

Up for more of an adventurous experience? Just outside of Showlow, Silver Creek is the place for you! With trouts measuring from 18 to 24 inches you surely won't be disappointed. This narrow creek is the perfect place to take a friend or family member to capture the esence of fly fishing! Keep in mind the creek has special regulations during peak season.
Or has Utah been on the List?
Utah has been a haven for anglers, and there is not questioning why. The landscape alone offers views like no other.
The Green River is named for it's remarkable, emerald green hue and is considered Utah's major stream . It is one of the most scenic rivers in the west, due to the multiple canyons it weaves through. More importantly, it holds healthy populations of trout: cutthroats, rainbow, and browns.
If all of the above sounds great, but a lake setting is more desirable, consider the Strawberry Reservoir located about 65 miles south of Salt Lake City. Approximately 60% of the reservoir's cutthroat were not a result of stocking, but rather natural reproduction.
The state of Utah has a user friendly guide to help anyone plan a successful fly fishing trip - check it out!
Then there is Always Lake Tahoe -
Nevada's Lake Tahoe and Lake Meade are two of the most beautiful places anyone could possibly fish. They are a classic of the Southwest for sure.
Like any other well known spot for fly fishing, being prepared can make or break the experience. And, there are plenty of outfitters ready to take your money.
When in doubt, contact the Nevada Department of Wildlife. Again, Park Rangers and Naturalists are eager to help nature and conservation enthusiasts.
If you have found this information interesting and helpful, do not forget that we are here for business owners like you - life should be manageable, as well as enjoyed. Have a safe and happy Labor Day weekend!